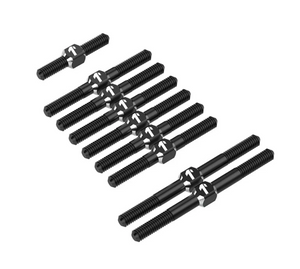 ULTRA LIGHTWEIGHT TURNBUCKLE SET
Give your Yokomo BD10 the appearance and performance it deserves with our new 1up Racing Ultra Lightweight Turnbuckle Set!
Our Ultra Lightweight Series Turnbuckles are finely CNC machined from top-grade 7075-T6 raw material sourced in the United States.  Beautiful silver chamfers shine bright when viewed from the side providing an outstanding visual effect against the satin black anodized finish.  Our signature 1up arrow is laser etched on 2 sides of the 4mm lug to clearly identify the thread direction making installation a breeze.
The complete BD10 Turnbuckle Set weighs only 5.4 grams and includes front and rear camber links, steering links, rear toe links and servo link.