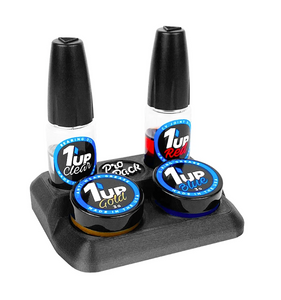 PRO-PACK WITH PIT STAND
Includes all the industry leading lubricants you need for your chassis! The oiler bottles are now 8mL and leak free!
Now with a super cool black pit stand to hold them all!
1UP GOLD – AW GREASE
1up Gold anti-wear grease has a synthetic base lubricant that clings tenaciously to metal surfaces for increased life and smooth operation.  Works extremely well on universals, dogbones and gears!
1UP BLUE – O-RING GREASE
1up Blue o-ring grease is the perfect answer for the serious racer looking to get the most performance from their car. With it's superior ability to reduce sliding friction, your shocks will feel smoother than ever. Perfect for use on diff o-rings and seals to provide long lasting smooth operation and helps prevent leaking!
1UP CLEAR – BEARING OIL
1up Clear bearing oil soaks into metal surfaces providing long lasting protection and low resistance. 2 IFMAR World Titles and 10 ROAR National Titles claimed in it's first year on the market! For ultra free bearings and increased drivetrain efficiency, the choice is Clear!
1UP RED – CV JOINT OIL
Formulated with feedback from our Factory Drivers, 1up Red is the answer for the racer looking for extreme performance and long-lasting protection for their CV joints or Universals!