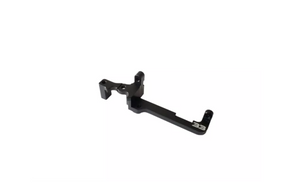 LCG SERVO MOUNT FOR Awesomatix MMX (BRASS) SINGLE ARM
Coming new from MR33 is a series of LCG servo mounts. They are available for the Xray T4-2021 (and 2020), Mugen Seiki MTC2 and Awesomatix A800MMX.

The MR33 LCG servo mounts feature a very low profile as there is no material going all the way above the servo. This will lower the center of gravity in your car and the case of your servo can shine in its original design when looking onto the car from above. The servo will float over the chassis by 0.5mm and will not affect its flex.
You can choose the material of the servo mount for your car between aluminum or brass to add different amounts of weight to your car. All MR33 LCG servo mounts are black colored for a stealth look in every car.
Note: We recommend the use of a servo horn without any offset, or without a small clamping screw on the lowest point of the servo horn. This clamping screw will scrub on the material of the servo mount. For example, you can use the adjustable MR33 servo horn MR33-AAS25T or MR33-AAS23T.