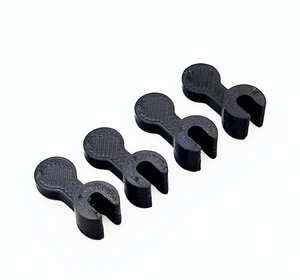 3D PRO SHOCK RESISTOR
Introducing our brand new 3D Pro Shock Restrictors for Low Profile Shocks on both EP and GP 1/10th Touring Cars.
Our new shock restrictors can be used for two main functions:
Getting perfect weight balance on your chassis using scales
De-tweaking your shock towers
Our shock restrictors make balancing your chassis on the scales easier than ever! With Mid Motor Touring Cars being more reliant on weight distribution than ever, it is important to be able to get an accurate reading on the front to rear, and side to side balance of your car. These restrictors slot into your Low Profile shock shaft, and fix the resting shock distance of your car to 7mm. This is roughly a normal ride height setting on most chassis, and turns the shock into a "turnbuckle" at ride height. This removes any impacts the spring shock collar pressure has on the reading of your weight distribution and gives you the actual reading of weight on all 4 corners of your car. 

Secondly, these are a great tool to de-tweak your shock towers. With the infinitely small tolerances placed on touring cars today, even having something out by 0.5mm can be felt on the track. Thats why it's super important to make sure your shock towers are perfectly tweaked. Slotting in our Shock Restrictors makes the resting distance between all 4 shocks fixed, isolating them and putting all reading through to the shock tower. Once these are installed, you can simply lift either end of the car to check the tweak of the opposite end's shock tower, and visa versa. Once the tweak is detected, simply loosen the shock tower screws and twist the correct way to bring the opposite end wheels into leaving the ground at the same time! This will be the cause of some of your chassis tweaks, and removing it at the source is the best possible way to fix it. Adjusting shock collars to counteract a twisted shock tower is only a cover-up of the source of the problem. 
Note: Both of these practises should be done with a flat chassis and correct droop measurements, along with setup wheels for best results.
They come in a small branded laser engraved screw-lid tin for easy storage!
Features:

Improves accuracy when checking chassis weight balance on scales
Detects shock tower tweaks
Fits all Low Shock Touring Cars (Xray, Yokomo, Infinity, Destiny, Xpress etc)
High Quality 3D Printed PLA+ Filament at 0.2mm layering for superior accuracy
Comes with Laser Engraved storage tin